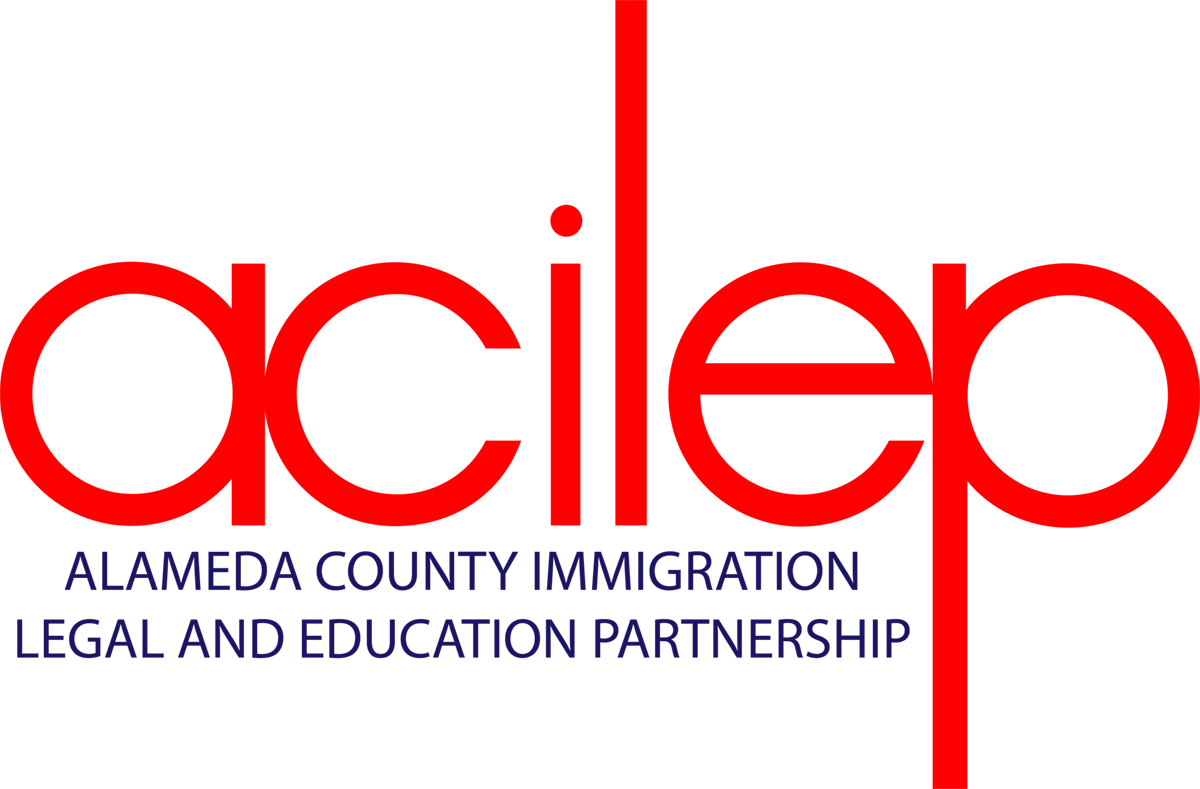 If you see Immigration and Custom Enforcement (ICE) in action, suspect ICE activity in progress, or if you are detained or someone you know is detained by ICE, call ACILEP for rapid response and immigration legal services (510) 241-4011.

Alameda County Immigration Legal & Education Partnership (ACILEP) is a partnership of Centro Legal de la Raza, Alameda County Public Defender's Office, and eight community based organizations:
You have the right to remain silent. You may refuse to speak to immigration officers.
Don't answer any questions. You may also say that you want to remain silent.
Don't say anything about where you were born or how you entered the U.S.
Carry a know-your-rights card and show it if an immigration officer stops you.
The card explains that you will remain silent and that you wish to speak with an attorney.
Do not open your door.
To be allowed to enter your home, ICE must have a warrant signed by a judge. Do not open your door unless an ICE agent shows you a warrant. (They almost never have one.) If an ICE agent wants to show you a warrant, they can hold it against a window or slide it under the door. To be valid, the warrant must have your correct name and address on it.
You do not need to open the door to talk with an ICE agent. Once you open the door, it is much harder to refuse to answer questions.
You have the right to speak to a lawyer.
You can simply say, "I need to speak to my attorney."
Before you sign anything, talk to a lawyer.
ICE may try to get you to sign away your right to see a lawyer or a judge. Be sure you understand what a document actually says before you sign it.
Always carry with you any valid immigration document you have.
For example, if you have a valid work permit or green card, be sure to have it with you in case you need to show it for identification purposes.
Do not carry papers from another country with you, such as a foreign passport. Such papers could be used against you in the deportation process.
If you are worried ICE will arrest you, let the officer know if you have children.
If you are the parent or primary caregiver of a U.S. citizen or permanent resident who is under age 18, ICE may "exercise discretion" and let you go.
Because Donald Trump has made many anti-immigrant statements, ICE and other law enforcement officers may think they can get away with violating your rights. Sometimes ICE officers lie to people in order to get them to open their doors or sign away their rights. If ICE detains you or you are concerned that they will conduct raids in your area, this is what you can do:
Create a safety plan.
Memorize the phone number of a friend, family member, or attorney that you can call if you are arrested.
If you take care of children or other people, make a plan to have them taken care of if you are detained.
Keep important documents such as birth certificates and immigration documents in a safe place where a friend or family member can access them if necessary.
Make sure your loved ones know how to find you if you are detained by ICE. They can use ICE's online detainee locator to find an adult who is in immigration custody. Or they can call the local ICE office. Make sure they have your alien registration number written down, if you have one.
You can call the Executive Office for Immigration Review (EOIR) hotline number at 240-314-1500 or 1-800-898-7180 (toll-free) 24 hours a day, 7 days a week to get information on your case's status.
ACILEP provides a rapid response to the legal needs of Alameda residents and families facing imminent deportation or other adverse action as a result of immigration enforcement activities like raids in homes, workplaces, schools, and neighborhoods.
Immigrants need experienced and qualified attorneys to fight against the current surge of deportation and detention. In addition, we simultaneously need resources to create a meaningful rapid response network to make sure the community is aware of their rights and can access counsel as soon as they are detained by ICE.
A report by the Stanford Law School Immigrants' Rights Clinic, on behalf of the Northern California Collaborative for Immigrant Justice (NCCIJ) explains the already dire need for removal defense representation in the Bay Area. The report found that over:
Detained individuals had lived in the United States for over a decade
Were separated from family members as a result of their detention (approximately half of them were separated from children)
Had been gainfully employed prior to their detention
Research shows that the removal of these (often) primary breadwinners from the family unit pushes families into the brink of poverty and homelessness, and can leave U.S. citizen children without parents to care for them. Public health insurance programs, foster care services, and other city and county social assistance programs suffer increased costs as a consequence.
In addition to the deleterious economic impacts of losing a family member to detention, studies have found that children whose parents were detained and faced the threat of deportation exhibited significant negative behavioral and emotional trauma. As such, not only do families and our local communities experience economic hardship, they also endure psychological turmoil when a family member is detained and/or deported.
Nearly one-third of Alameda County residents were born outside of the U.S.
Alameda County residents speak a language other than English at home.
Children live with one or more foreign-born parent
Recent studies show the extremely damaging psychological and physical impact on children if their parents are apprehended detained and/or deported.
In addition to the severe psychological impact of depression and anxiety, inability to focus in or attend school, children also see an increased risk of self-harm. The student population of the Oakland Unified School District (OUSD) shows that approximately 11,000 Oakland students are English language learners, which is 30% of the entire student population. Over 8,000 of OUSD English Language Learner students were born in the U.S., indicating that one or more of their family members are foreign born and that the students are in mixed status families. At present, 5,066 OUSD students are foreign-born, from countries that include: 
Afghanistan
Burma
China
El Salvador
Eritrea
Ethiopia
Guatemala
Honduras
Mexico
Mongolia
Nepal
Philippines
Vietnam
Yemen
Such diverse immigrant populations exist throughout our region and have long made Alameda County their home.