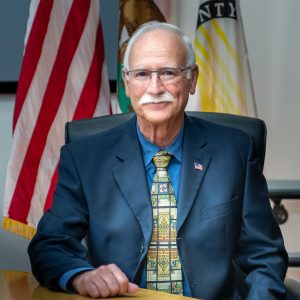 Dear Beloved Community,
Centro Legal de la Raza is heartbroken to learn of Supervisor Richard Valle of Alameda County's passing. Supervisor Valle was a tireless champion for immigrants and refugees, tenants, youth, and working families in our community. Just this last year, it was our honor to recognize Supervisor Valle with our Champion for Justice Award, celebrating and honoring his commitment to our beloved East Bay community.
Supervisor Valle fought hard for resources to support migrant children fleeing violence and persecution, supported increased protection of families affected by adverse immigration enforcement, and fought hard to make sure that low-income tenants were provided not only with policy protections to prevent unjust eviction and displacement, but made sure that resources were allocated to ensure that community members had access to legal representation to enforce those rights. Without Supervisor Valle's unwavering support of the Alameda County eviction moratorium, thousands of Alameda County tenants would have been displaced during the COVID-19 pandemic. His leadership could always be counted on to fight for those who are most marginalized in Alameda County.
As a Latina growing up in Hayward, he served as inspiration to what successful leadership looks like while staying grounded in community and staying true to core social justice values. He was a role model to me and my colleagues.
On behalf of Centro Legal, we are committed to upholding his legacy as we continue our work towards creating an equitable place for all Alameda County residents. He will be deeply missed. Our thoughts and prayers go out to his family, friends, colleagues, and our fellow Alameda County residents.
In Solidarity,
Monique Berlanga
Executive Director
A mi querida comunidad,
Centro Legal de la Raza está desconsolado al enterarse del fallecimiento del Supervisor Richard Valle del Condado de Alameda. El supervisor Valle fue un defensor incansable de los inmigrantes y refugiados, inquilinos, jóvenes y familias trabajadoras de nuestra comunidad. Solo el año pasado, fue un honor para nosotros reconocer al supervisor Valle con nuestro premio Campeón de la Justicia, celebrando y honrando su compromiso hacia nuestra comunidad del Este de la Bahía.
El supervisor Valle luchó arduamente por recursos para apoyar a los niños migrantes que huían de la violencia y la persecución, apoyó a la protección de las familias afectadas por inmigración y luchó arduamente para asegurarse de que los inquilinos de bajos ingresos recibieran protecciones para evitar el desalojo y el desplazamiento, y aseguró de que se asignaran recursos para garantizar que los miembros de la comunidad tuvieran acceso a representación legal para hacer cumplir esos derechos. Sin el apoyo del supervisor Valle a la moratoria de desalojo del condado de Alameda, miles de inquilinos del condado de Alameda habrían sido desplazados durante la pandemia de COVID-19. Siempre se pudo contar con su liderazgo para luchar por los más marginados en el Condado de Alameda.
Cómo latina que creció en Hayward, él fue una inspiración de liderazgo que siempre se mantuvo arraigado en la comunidad y fiel a los valores fundamentales de justicia social. Fue un modelo a seguir para mí y mis compañeros.
En nombre de Centro Legal, estamos comprometidos a defender su legado mientras continuamos nuestro trabajo para crear un lugar equitativo para todos los residentes del condado de Alameda. Él será profundamente extrañado. Nuestros pensamientos y oraciones están con su familia, amigos, colegas y residentes del condado de Alameda.
En solidaridad,
Monique Berlanga
Directora ejecutiva