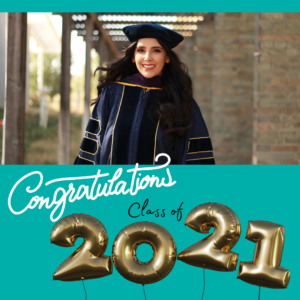 Lilian Lopez-Zepeda is a Youth Law Academy alumni, who recently graduated from UC Davis School of Law, Class of 2021, and is preparing to study for the California Bar Exam. We are so proud of her achievement. 
The Youth Law Academy Program has done a marvelous job assuring our students that their academic and professional goals are within reach. It is imperative to recognize that the systemic barriers to higher education, specifically pertaining to law school, are detrimental to creating an equitable, just and diverse field. Centro Legal is proud of the brilliant milestones our current and past students have accomplished through YLA and for the work the YLA team has done to ensure our students are set up for success at every stage of their academic careers. Our alumni continue to flourish and prove that Black, Indigenous, people of color (BIPOC) can and will occupy spaces that they have been systematically excluded from. To quote Raymundo Jacquez, Interim Co-Executive Director and Director of YLA, "Going to law school is an act of resistance if you're a person of color."
We did a Q&A session with Lilian to not only inspire you but also inspire the next generation of youth looking to pursue a law degree:
What were you feeling when you received your degree? What does this mean for you?
This degree means the world to me. Before coming to law school I felt that my dream of becoming an attorney was such a distant goal and now that I graduated I feel a great sense of accomplishment and pride.
What's next?
I am currently studying to take the California Bar Exam and plan to return to the Bay Area. 
Is there someone who you are grateful for supporting your journey (parent, YLA staff, mentor, internship partners, etc.), what would you tell them?
I thank my parents for always supporting me throughout my path towards higher education. This Juris Doctor degree not only symbolizes my hard work, but it also represents the sacrifices my parents made when they chose to come to the United States. Watching my parents work endless hours to support my brother and me through college lit a fire in me to be the best I could be. I thank them for all that they have done to help get me this far. 
How did YLA support you in this journey?
I joined YLA when I was 14 years old and the YLA staff has supported me from my college application process all the way through my time in law school. YLA is not just a 3-year high school program, YLA is truly invested in helping students succeed by guiding first-generation students through unfamiliar territory. I am grateful for all the support they have provided and I am grateful for all the mentors and friends I gained through YLA. 
What's one piece of advice you want to tell the next YLA group of alumni interested in pursuing law?
I would advise YLA students to always do their best in school because their efforts in college will open many doors when applying to law school. I would also suggest taking time between college and law school to explore different legal fields. 
What's something you want to tell your community about accomplishing this huge achievement?
I want to say thank you to all of my community in Oakland. Many friends, colleagues, and mentors played a huge role in encouraging me and helping me navigate the difficulties that law school presents. Thank you to everyone who played a role in helping me reach this milestone. 
To support Centro Legal de la Raza and the Youth Law Academy, visit centrolegal.org/donate.