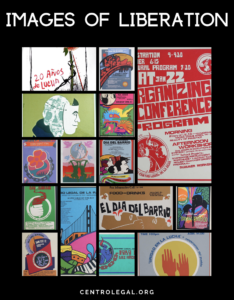 * Please click on the image to view Malaquias' art.
The artistic philosophy that guides Montoya's work and life addresses three prominent themes: injustice, empowerment, and international struggle.
He depicts the defects of society and politics and the struggle for justice. Through his art, he gives us a better understanding of the world we live in and shows us that we, as a people, are not alone.
Centro Legal de la Raza was founded in 1969 and is a legal services agency protecting and advancing the rights of low-income, immigrant, and Latino communities through bilingual legal representation, education, and advocacy. By combining quality legal services with know-your-rights education and youth development, Centro Legal ensures access to justice for thousands of individuals throughout Northern and Central CA.
A special thanks to Emma Zamora, UC Davis '20, for contributing the accompanying historical narratives of each piece.